Dual Language Student Inspires at Salt Creek
Veronica Keigher was always destined for the dual language program at CCSD59. From the time she was born, her parents, Greg and Amy, made it a high priority.
Her two older brothers had gone through the program at Salt Creek Elementary and Greg and Amy wanted to make sure Veronica had the same opportunities.
The first grade student is something of a pioneer for the two-way program. She is the first student with Down Syndrome in the near-decade-long history of the program.
"Salt Creek has welcomed Veronica with open arms," Greg said. "Her teachers are amazing. They are very accepting of her and challenge her to raise the bar."
That sentiment is shared by the staff and students who interact with Veronica every day. They describe her as a warm and sweet addition to any room she enters. She is also known to set the bar for some of her classmates. In fact, she is accustomed to challenging herself and staying busy, even at a young age. She participates in dance and theater and even has an upcoming part in a cast production of Mary Poppins, put on by the UPS for DownS and EDGE productions in Schaumburg.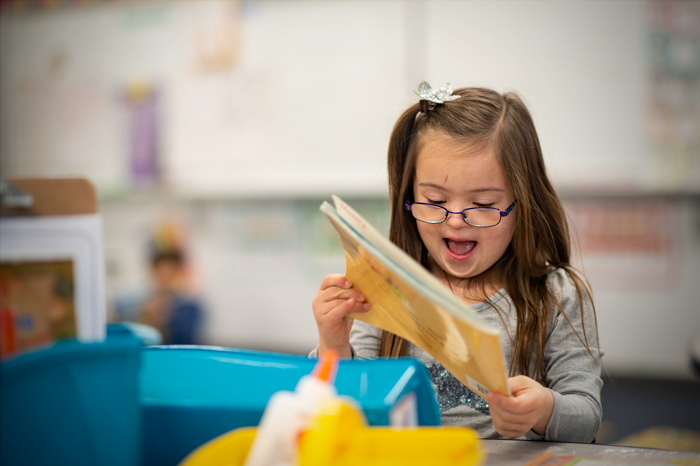 She translates that confidence and fun demeanor to the classroom at Salt Creek.
"I was really excited to have Veronica," said Claudia Lamas, a two-way dual language teacher at Salt Creek. "She is a joy to have and the kids love her."
Ms. Lamas taught Veronica's siblings as part of the same curriculum and says this experience has hardly been different.
"The same strategies that work for everyone else also work for her. There are a lot of kids in the classroom that are at her level of understanding when it comes to Spanish. It's applicable to her. I don't use more pictures or English because she is in my classroom. Her needs are more geared towards transitions."
Veronica is one of roughly 2,200 students in CCSD59 that are identified as Early Language Learners in a Multilingual program. The two-way program focuses on teaching students from two language groups to become bilingual, bicultural, and bi-literate. Like her peers, she is taught in both English and Spanish on a daily basis.
"She is a sweet student and so capable," said Cassidy King, a Learning Behavior Specialist at Salt Creek. "With the dual language, it's amazing what she's doing. There is no big discrepancy and overall she is doing a great job."
"It shows (the program) is for all individuals no matter their needs."
Veronica will soon be using her dual language to communicate in her future endeavors. We are so thankful for her excellent team of teachers, therapists, and administrator's approach in preparing Veronica to be a successful contributor in the community.
– Greg Keigher
October is nationally recognized as Down Syndrome Awareness Month, meaning it has been a special few weeks for the Keigher family. They have always found it important to nurture their daughter's independence and that is already on display.
As Veronica grows as a person and student, she expected to continue to inspire classmates and teachers alike.
"Although every situation is unique, inclusion is good for many children and their peers," said Greg.  "Veronica will soon be using her dual language to communicate in her future endeavors. We are so thankful for her excellent team of teachers, therapists, and administrator's approach in preparing Veronica to be a successful contributor in the community."