Board Update 8/6/18
Student Celebrations
Agenda Item 6.0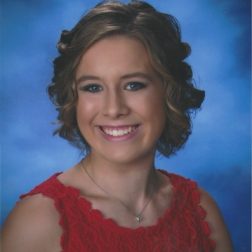 The board recognized CCSD59 alum, Ashley Szull, for her accomplishment on being named to the Daily Herald's Northwest Suburban Leadership Team for 2017-18. Ashley attended Admiral Byrd Elementary and Grove Junior High and recently graduated from Elk Grove High School in 2018.
Ashley's full biography can be read here.
Congratulations on your incredible accomplishment, Ashley.
---
Discussion Items
Agenda Item 7.0
Approval of the Intergovernmental Agreement between CCSD59 and the YMCA of Metropolitan Chicago For After School Care Agreement – 7.01
CCSD59 and its various park districts have had agreements in place to provide before and after school recreation programs for CCSD59 families for elementary students. Junior high students are not eligible to participate in the park district's elementary before and after school program. In an effort to provide services for junior high students, the District contacted the YMCA of Metropolitan Chicago. The YMCA of Metropolitan Chicago will be able to provide fee-based after school care for all CCSD59 students including junior high students and students with special needs. If approved, the fee-based YMCA program will be hosted at Grove Junior High School and at the YMCA site.
Student Transportation Policy 4.110 Transportation Section of the Family Reference Guide – 7.02
The board of education discussed CCSD59's transportation policy to determine if changes were needed regarding transporting students to after school programs outside the District's boundaries. After discussion, the board of education determined not to revise the current transportation policy.
Approval of the Educator Prep Memo of Understanding Between District 214 and CCSD59 – 7.03
The CCSD59 Board of Education and the District 214 Board of Education are working together to provide an Educator Prep Program for secondary students who are aspiring teachers in order to support the development of a local, diverse, high quality pipeline of future educators. A variety of other local districts are also expected to participate in the program.
At the August 13, 2018, board meeting, the board will vote on the memorandum of understanding, which represents a formal agreement between the CCSD59 Board of Education and the District 214 Board of Education. The Memorandum of Understanding would be effective with the 2018-19 academic year and is subject to renewal annually on a fiscal year (July 1 – June 30) basis.
Midas Education, LLC Agreement – 7.04
CCSD59 is in the process of building a comprehensive and timely system of communicating learning that is meaningful for all parents, students, and staff and encompasses our district beliefs, direction, and whole child approach. As part of this effort, the district is exploring tools that will help make this system of communicating an interactive and easily accessible experience. CCSD59 is exploring a partnership with MIDAS Education, LLC to help build this tool over the coming school year. At the August 13, 2018, board meeting, the board will vote on the proposed contract between CCSD59 and MIDAS.
---
Action Items
Agenda Item 9.0
2018-19 Budget – 9.01
a. Tentative to Final 2018-19 Board Memorandum
b. 2018-19 Tentative Budget to Final Budget Presentation
c. 2018-19 Budget
d. 2018-19 State Budget Form 50-36
e. Recommendation for Changes to the 2018-19 Tentative Budget
The board approved the changes to the 2018-19 tentative budget. The board will vote on the adoption of the final fiscal year 2018-19 budget at the August 13, 2018, board of education meeting.
Approval of Changes to Board Policy 7:50 School Admissions – 9.02
The newly enacted Accelerated Placement Act requires school districts to modify the school admissions policy for entrance to kindergarten and first grade.
Upon attorney review of this policy, at the August 6, 2018, board meeting, the board approved the recommendations made by both the PRESS and CCSD59's attorney to distinguish between schools on a traditional calendar and schools on a full year calendar in Policy 7:50 School Admissions.